In the
first part
, we talked about the increasingly-dangerous-to-ignore opportunity available in the emerging markets, as well as their characteristics.
We have seen how Google's Android has allowed some companies to use it as a leverage to deliver devices that are answering the needs of a lot of people in the mostly unsubsidized emerging markets.
However, the devices we have discussed were still in the $200-500 range. How about the 21st century versions of young Jay Gatsby?
"My memory goes back to when I first met him," he said. "A young major just out of the army and covered over with medals he got in the war. He was so hard up he had to keep wearing his uniform because he couldn't buy some regular clothes. First time I saw him was when he come into Winebrenner's poolroom at Forty-third Street and asked for a job. He hadn't eat anything for a couple of days. 'Come on have some lunch with me,' I said. He ate more than four dollars' worth of food in half an hour" Meyer Wolfsheim recounting the first time he met Jay Gatsby, The Great Gatsby, Chapter XI
Although his 21st century counterparts might not have to wear the same outfit for days on end, they share similarities in terms of having their ambitions shackled by limited resources.
We are talking about people who need to get by with $200-$300 a month or even less. $200 is not any arbitrary number, it is the current minimum wage in Indonesia's capital, Jakarta. The greater Jakarta area is home to around 24 million lives in 2007 (predicted to increase to 32 million by 2016 which is roughly the current population of Canada), it also happens to be the area with the highest average monthly income in the country.
Anatholis's essay
referred to in the first part of the series showed that this reality is also apparent in China and India which together are home to more than 2.5 billion people. It is not much of a stretch to imagine that this "young Gatsby" segment is in fact even larger than the "Nick Carraway" segment that we talked about in the previous installment.
Connected devices as mediums to acquire digital literacy
In the book Net Smart,
Howard Rheingold
said, "Knowing how to make use of online tools without being overloaded with too much information is, like it or not, an essential ingredient to personal success in the 21st century". Furthermore he stated, "those who understand the fundamentals of digital participation, online collaboration, informal credibility testing, and network awareness will be able to exert more control over their fates than those who lack this."
A definition of twenty-first century literacy offered by the New Media Consortium (2005) is "the set of abilities and skills where aural, visual, and digital literacy overlap. These include the ability to understand the power of images and sounds, to recognize and use that power, to manipulate and transform digital media, to distribute them pervasively, and to easily adapt them to new forms" (Confronting the Challenges of Participatory Culture: Media Education for the 21st Century).
It is challenging to acquire the aforementioned necessary skills of the 21st century, much less deploy it, without being connected to the internet. This is the importance of sub $100 smart mobile devices. By providing 24/7 internet connectivity, these devices have the potential to give 21st C equivalent of young Gatsby a chance at acquiring 21st century literacy, thus giving them a fighting chance to use it as leverage to achieve success just like their developed world peers can.
Luckily, quite a number of companies are aware about this and are working to provide solutions to bring smart mobile devices to this segment of the market.
The best sub $100 Android smartphones currently in the market
Given the free nature of Android, it is only natural to find Android phones filling this segment. Two phones stood out in particular.
Samsung Galaxy Star
The first is
Samsung's Galaxy Star
. Its 3 inch qVGA (320 x 240) screen, 1GHz single core ARM A5, 4 GB of internal storage, 512 MB of RAM and 2 MP primary camera might not sound like much but at US$89 (off-contract) this is the most affordable Android Jelly Bean (4.1) phone in the world. Theoretically, users of this phone have access to all the improvements Jelly Bean brings including Project Butter and Google Now. It also has access to the latest Android Apps. Samsung's choice of super low resolution screen allowed the phone to run Jelly Bean decently, it even runs games as heavy as Dead Trigger at playable frame rates with little to no lag.
Lenovo A390
Another notable Android device currently available in this price range is the US$87
Lenovo A390
. It might only come with ICS, but it also has a 4 inch WVGA screen, a 5 megapixel camera and 1 GHz dual core Mediatek 6577 paired with 512 MB of RAM and 4 GB of internal memory. By the way, this is the same processor LG uses in their new US$ 320 Optimus G Pro Lite 5.5.
You can check out the performance of the aforementioned phones in the following videos:
While the Galaxy Star and the Lenovo A390 signal the arrival of up to date OS version and dual core processing power, respectably, to this price range, at the moment these phones are outliers in the sea of sub $100 Android phones. In reality quite a view devices in the price range still come 600-800 MHz processors as well as older Android versions.


Is there an alternative to Android in the segment?
Away from the limelight of mainstream media, since the second quarter of this year, Nokia has been benefitting from bringing quality built and smooth experience to the sub $200 market with their Lumia 520 line of smartphones. By preserving the attention to design and built quality of its more expensive siblings, the $145 Lumia 520 with its 4 inch IPS display is among the few sub $200 smartphones available today that does not look and feel as if it was purposefully built from the ground up to be dirt cheap.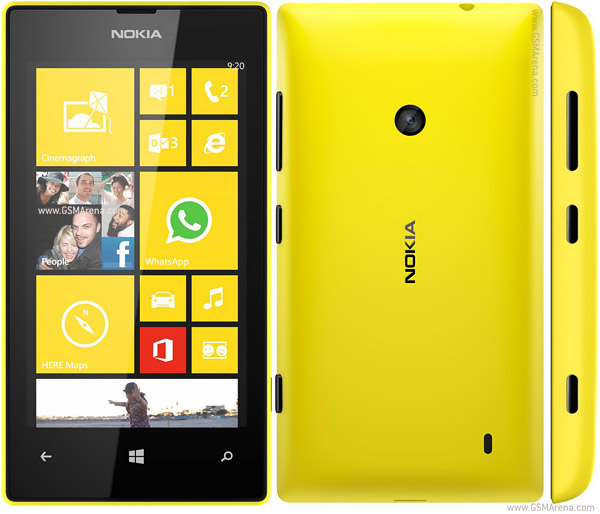 Lumia 520
If smartphones were Mercedes-Benzes, unlike many other affordable price phones, the 520 is not the A180 that is dead set at reminding the owners that they should have worked harder every time they put their foot on the gas. The Lumia 520 is more akin to an A45 AMG. It is still the smallest , the slowest and the cheapest among high performance Mercedes but it is also an AMG. It might not offer the same level of superlative horsepower as the SL 65 AMG, but it will not remind its owners that they the main reason they are driving it is because they are not wealthy enough to get a C, E or SL class AMG Mercs.
Mercedes-Benz A45
The market responded, the phone is currently the best selling Lumia (thus, Windows Phone) device. In mere three months since it was launched, the most affordable Lumia was able overtook the sales of other Lumia models. Thanks to the momentum afforded by the 520,
1 in 10 phones sold in Europe
is now a Windows Phone device. From a personal perspective, the 520 is the first Windows Phone device that I have accidentally come across to in the wilds; for Windows Phones that is a huge step forward. To read more about the success of the 520 and its impact to the Windows Phone platform in general you can visit this
previous article
.
This $100-200 segment is crucial because most people interested in phones belonging to the price bracket are latest of late adopters, people who are buying smartphones for the first time. To this group, the lack of apps available in the Windows Phone ecosystem is less of a problem allowing Nokia to use the 520 to hijack first time smartphone owners before they are spoiled by the choice available in the leading ecosystems.
It is not difficult to imagine that the same principle works even more for Nokia's in the sub $100 bracket because unlike the case with the $100-200 price range, most Android options in this bottom of the barrel segment are currently still unable to deliver a refined experience expected from modern, multi core Android phones. Even the best of the bunch mentioned above still screams "compromise" as soon one takes them out of the box and give them a spin. In a sense, they still give their buyers that A140 sensation described previously.
Nokia's effort
Nokia World Abu Dhabi, October 2013
Nokia showed in Abu Dhabi last month that they are very much aware of this. They launched not one but three sub $100 phones, the Asha 500, 502 and 503 priced at $69, $89 and $99, respectively.
But what is the most interesting was not the number of models launched, yet the quality of built and attention to detail in the design of these phones. Sitting next to Nokia's more expensive phones from the Lumia range, the three little super affordable phones does not look like eyesores. All of them carry the design theme found in Nokia's Lumia line such as unibody polycarbonate construction and vibrant colors.
Below is an introduction video for Nokia's new Asha line.
To better understand Nokia's new Asha line up, we have to take a step backward and look at their predecessor, the Asha 501, which was announced back in may with a $99 price tag.
Take a look the following picture. Try and spot the sub $100 phones among the ones lined up on the table. Not as easy as it might sound at first, right?
The new Ashas have a unibody polycarbonate shell which is one of the most recognizable feature of Nokia's Lumia line. The phone consists of two parts, the part that holds the hardware and the coloured shell that wraps around the back of the phone. Nokia also employed the same kind of colors that people have come to expect from their Lumia line.
For the shell of the new Asha phones, they took the same idea that they first used on the Lumia 625, that is, layering a clear layer of polycarbonate on top of a colored layer made from a polycarbonate material
called elastomers
. According to Nokia's designer, it is a material that can be spread very thinly and allow them to give the phone strong color. While the outer layer on the Lumia 625 is matte, in the new Asha phones they are purposefully made as clear as possible to enhance the eye popping effect of their colors.
Focus your attention to the corners, and you'd find another neat trick. Nokia's designers have made the transparent layer thicker on the corners, effectively giving the illusion that the whole phone is trapped inside an ice cube.
This level of attention to detail is unprecedented for phones that are meant to be sold for under
$100.
Nokia Asha 502
Their effort did not stop on the physical aspects. The new Nokia Asha runs on what Nokia calls the Nokia Asha Software Platform 1.0 which Nokia released in May alongside their first New Asha UI phone, the Asha 501.
Nokia's new Asha UI
Basically, these phones are still running on top of S40 version 6, a "smartphone" OS that Nokia first launched in 1999. What Nokia brought with the new Asha phones is a completely
revamped user interface
, inspired by their defunct Harmattan project (Meego), built on top of the old S40 platform bringing modern paradigms such as direct manipulation as well as swype based navigation. They also launched a whole new set of
design guidelines
for app developers to build new apps and update their old apps to suit the new user interface. The result is a modern, intuitive and fluid experience that feels like its punching above its weight.
Remember what Google did when they made the jump from Gingerbread to ICS? The update came with a whole new set of design language and guidelines that they call "Holo". As any self respecting Android enthusiasts will tell you, Holo covers more than just design guidelines; it is a paradigm in itself, an all encompassing design philosophy if you will, that governs not only how user interface should look like but also how they behave and how the users are expected to interact with the UI. Android enthusiasts are so familiar with this Holo design language that they'd be able to tell at a glance, which apps are Holo, and which are not.
What Nokia has done with their new Asha UI is nothing short of creating their own version of Google's Holo design language using the the Asha 501 as its launch vehicle, in a sense, Nokia's own Galaxy Nexus. What's amazing is the fact that not only have they gone to such great lengths for an operating system that is in essence, more than decade old but they also went through all that for devices that are designed to retail for as low as $69 off-contract (not including tax).
Here's a video of Nokia's head of UI design, Peter Skillman explaining the new Asha UI by using a ladder, literally.
For the uninitiated,
Skillman
spent 11 years with Palm before he moved to Nokia in 2010. He was the VP of design at Palm and worked on the software design of WebOS for one a half year before Duarte took over and he focused more on the industrial design side of things.
Those interested to take a closer look at the changes Nokia brings with the Asha Software Platform 1.0 can peruse this
piece
I wrote a few months ago.
Up to this point, one might deduce that Nokia is well poised to lead the sub $100 segment. However, an imminent threat is on the horizon. As one can infer from the beginning of the piece, one of the current primary disadvantages of sub $100 Android phones is that most of the devices available in this price range do not come with an up to date version of Android. This is due to the fact that Android Jelly Bean was not designed to run well on devices with less than 1GB of RAM resulting in many phones shipping with either ICS or, worse yet, Gingerbread. This will change with the arrival of Android 4.4 KitKat. One of the areas that Google worked on Kit Kat is the optimization to allow the OS to run on 512 MB of RAM. This is clearly aimed to solve the problem that is currently plaguing sub $100 Android devices.
Android 4.4 KitKat
How well these ultra low end KitKat devices will perform is still up in the air but we can be sure that in the coming months, sub $100 Android devices will come with Kit Kat on board along with the latest catalogue of apps available in Google's PlayStore. When that happens, the appeal that Nokia's new full touch Ashas currently have will crumble as there is no amount of attention to design and optimisation to the aging S40 platform can compete with the rich ecosystem that these Kit Kat equipped sub $100 Android phones offer.
One thing Nokia/Microsoft can do is to leverage the decreasing cost of components and drive the price of their Asha phones further down. If, in six months' time, Nokia/Microsoft can offer devices similar to the Asha 503 for half its current ($99) price, they might have a fighting chance.
However, as Sameer Singh noted in his
commentary
following Nokia's Q3 earnings, Nokia's feature phone division is the only part of Nokia's mobile device business that is currently making them profit. Slashing the price of Asha phones will risk thinning their feature phone margins. Microsoft has a huge chunk of cash at their disposal, but how eager are they to add yet another money losing division? We will find out the answer to that in a few months.