Xiaomi Mi 3 (photo courtesy of Gizchina)
People lining up in Beijing to see the launch (courtesy of Gizchina)
Here are some of the specs of Xiaomi's new flagship, as reported by Sykes:
The phone will have a svelte profile measuring 144 x 73.6 x 8.1 mm
It has a 5 inch 1920x1080 display with 441 PPI and ultra sensitive OGS touch panel (as did their previous flagship) so that the screen can be operated either in the rain or while wearing gloves.
The rear camera is a wide angle 28 mm lense, 13 megapixel, f 2.2 module from Sony
While the front camera is 2 megapixel module with an f 2.2 30 mm wide angle lense.
It will have NFC and gyro enhanced GPS that would allow it to provide navigation when the user in the subway.
It will come with two storage options, with the 16 GB model offered for $320 and $408 for the 64 GB model.
It will be available in China by mid October.
What about the processor?
Here's where it gets interesting.
Xiaomi announced that their new flagship will be available with two different processor options, Qualcomm's Snapdragon 800 and NVIDIA's Tegra 4.
I wont blame you for asking "but why?"
I mean, it's not like Xiaomi is Samsung that it needs to consider chip manufacturers' ability to produce chips fast enough to meet the global demand of their phones?
Here's why:
The Chinese telco giants are operating on different types of networks.
The Snapdragon 800 models will cater for consumers on China Unicom's WCDMA network and China Telecom's CDMA 2000 system.
Whereas the Tegra 4 models will serve consumers on China Mobile's TD-SCDMA network.
Let's talk about the chips in more detail.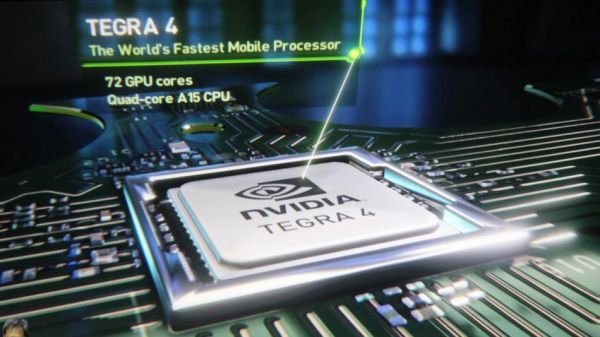 NVIDIA Tegra 4
In a previous
article
, we have talked about why the Tegra 4 has not made a big splash in the mobile market, quite unlike their previous model, the Tegra 3. The primary reason behind this is the fact that not only the Tegra 4 does not have a PoP (package on package) RAM module, it also does not have an integrated LTE/3G modem solution, unlike Qualcomm's latest Snapdragons. These limitations made the Tegra 4 less appealing for phone manufacturers since using the chip would require more space and higher cost compared to going with an integrated solution like Qualcomm's Snapdragons.
Luckily, in Xiaomi's case, Tegra 4's limitations seem to work to NVIDIA's advantage. Xiaomi can use an dedicated ISP to make a model that would work on China Mobile's TD-SCDMA network. There is no official statement yet on which ISP ended up used in the TD-SCDMA version of the Mi 3, but since NVIDIA's own ICERA 500 supports TD-SCDMA, there is little reason for Xiaomi to look for other solutions.
Qualcomm's Snapdragon 800
What about that Snapdragon 800?
Xiaomi's CEO, Lei Jun claimed on stage that the Snapdragon 800 used in the Mi 3 is the most powerful Snapdragon 800 in the world, even more powerful than what Samsung is planning to use in their new devices.
Anandtech confirmed this.
According to Brian Klug, the Mi 3 has the MSM 8974AB Snapdragon 800. This is an uprated version of the MSM 8974 used in previously announced phones running the Snapdragon 800.
Here are the changes:
Both still has four Krait 400 cores, but whereas the "regular" MSM 8974 comes in 2.2 an 2.3 GHz, the MSM 8974AB comes only in 2.3 GHz variant.
Process is still TSMC 28 nm HPM
Adreno 330 GPU in the 8974AB runs at 550 MHz up from 450 MHz in the old 8974 (a 22.2% increase)
LPDDR memory data rate is increased from 800 MHz in the 8974 to 933 MHz in the 8974AB (a 16.6% increase)
ISP ,or modem in laymen's terms, clock is also increased to 465 MHz from 320 MHz on the previous model (a 45.3% increase)
How did the two stack up against each other? Thankfully Gizchina's Andi Sykes has a picture showing Xiaomi's benchmark scores right here:
Tegra 4 V Snapdragon 800
That's not the end of the pleasantries though, as Andi Sykes also mentioned that Hugo Barra was on stage at some point saying that "he is planning on spreading the word of MIUI and Xiaomi to the world".
On another note my friend CJ Tan also noticed that this was the first time that Xiaomi announced their new product's pricing in USD.
I'll leave the interpretation to you.
You can click to following links to head to the source:
Gizchina
Anandtech