I'm sure that by now, we all have heard about Nokia's acquisition by Microsoft. It's no longer news that Microsoft bought Nokia for close to 7 billion Dollars in total, it has been discussed everywhere throughout the blogosphere for days now. The funny thing, is I can't stop but to think about Star Trek and "The Dominion" as I read the news.
What is the Dominion and how it relates to Nokia and Microsoft?
In Star Trek Deep Space Nine, The Dominion is an inter-stellar tyranny lead by a shape shifting race referred to as the "changelings". Before they subjugate other races, these changelings would first infiltrate their subjects by assuming the shape of their leaders. They would then make a series of decisions designed to strategically weaken the race before the real Dominion invasion begins.
Both men are changelings, guess which one is a Dominion?
Now, take a look at the following chart, depicting Nokia's stock price:
Nokia share price since Elop took the reign
Stephen Elop who's formerly at Microsoft, joined Nokia in 2011 and subsequently made the decision to abandon Nokia's own platform Symbian, and dedicate all Nokia's efforts to make phones based on Microsoft's mobile operating system, Windows Phone.
His rationale at the time was he did not want Nokia to go with Android to play second fiddle to Samsung.
Three years on, here are some of the results:
Nokia's smartphone market share fell from 35% in mid-2011 to 3.7% in Q2 2013 according to IDC.

Market capitalization dropped from $40 billion to $16 billion

Over 40,000 Nokia employees lost their job
With such a track record, after Microsoft's acquisition of Nokia, Elop is now back at Microsoft and, according to Steve Ballmer is now
considered an internal candidate
to replace him as CEO of Microsoft.
Thus the first thing that crossed my mind when I learned about the news was this meme:
Odo, Chief of Security on Deep Space Nine station responding to the news
And this:
Nog in agreement with Odo
Of course this is all just speculation and we have no way to prove if our suspicion is based on any truth at this point.
If we look at it from another perspective, we can even say that Elop and his decisions was the one that allowed the clueless Nokia to survive, at least right up to yesterday's acquisition.
In July, Forbes announced that Nokia has surpassed Blackberry in terms of smartphones sold. In the second quarter of 2013, Nokia has sold 7.4 million Windows Phone powered Lumia smartphones up from 5.6 million in the previous quarter.
Nokia's rival, Blackberry could only sell 2.7 million BB10 smartphones in Q2.
Of course, Samsung sold some 70 million in the same period, but that's another story.
In total, Nokia has sold 27.3 million Windows Phones since they started selling them in November 2011. Since Nokia produces almost 90% of the world's Windows Phone devices, Microsoft's mobile OS is now also the third largest mobile OS in the world.
If we take a look at the following chart, it is clear that, while Windows Phone's market share is insignificant compared to the Android and iOS, Windows Phone has performed much better than Blackberry. Focusing on growth between Q2 2012 to Q2 2013, Windows Phone is second only to Google's Android.
Year on year global smartphone OS growth
The next logical question is what can Microsoft do to make the best use of their purchase?
Growing a new ecosystem like Windows Phone to grow past Blackberry is an achievement no matter how we see it, but 3.7% (now 4.4%
according to numbers from Kantar
) of the world's smartphone market is certainly not a spot that Microsoft would to stay at for a long period.
Indeed, in their "
Strategic Rationale
" document released following the acquisition, Microsoft announced that they want to triple Windows Phone's market share in 5 years. That means they are aiming to have around 15% of the world's mobile market by 2018.
How exactly is Microsoft going to do that?
Kantar world panel just released their latest numbers on September 2 2013 and they show that ,on average, Windows Phone now has 4.4% of the world's smartphone market, with 3.5% in the US and 8.2% in Europe.
Guess which phone is purchased in 1 out of every ten smartphone purchases in Britain, France, Germany and Mexico?
No it's not the Lumia 920 nor is it the darling of the blogosphere, the 41 Megapixel 1020; it is Nokia's Lumia 520.
In case you haven't heard, The Lumia 520 is currently Nokia's cheapest Windows Phone 8 device; it has a 4 inch WVGA screen with a 1 GHz dual core processor and a 512 MB of RAM. It was announced in March this year and is now on sale in places like India and the UK for around $160.
In the first two and a half years since Nokia had partnered with Microsoft to bring Windows Phone devices to the world, the two had never been successful to make leave a significant mark. But since they launched the 520, according to Kantar, they have:
Defeated Blackberry in the race to secure the third spot of global smartphone OS market share
Nearly doubled their market share to 4.4% from the same quarter in the previous year
Become the second largest operating system in Mexico
To understand the importance of the 520, let's take a look at Windows Phone 8 devices sold globally from May through August 2013, according to data from
Adduplex
:
Worldwide Windows Phone usage data according to Adduplex
It can be seen from the chart that in only about 4 months since it was launched, the 520 had risen as the most popular Windows Phone device in the world; taking around 18% of total Windows Phones sold during the period, over taking the much lauded 920 by quite a margin.
Comparing this with the result of Kantar's research that stated 42% of Windows Phone sales come from first time smartphone owners, The 520 is , quite simply, a sleeper hit for first time smartphone owners throughout the globe.
Lumia 520's rise from March to July in the global Windows Phone ecosystem according to Adduplex
But the 520's significance does not stop there.
Smartphone shipments by country according to Canalys
Earlier this year, Canalys also released their projections for global smartphone market growth up to the year 2017: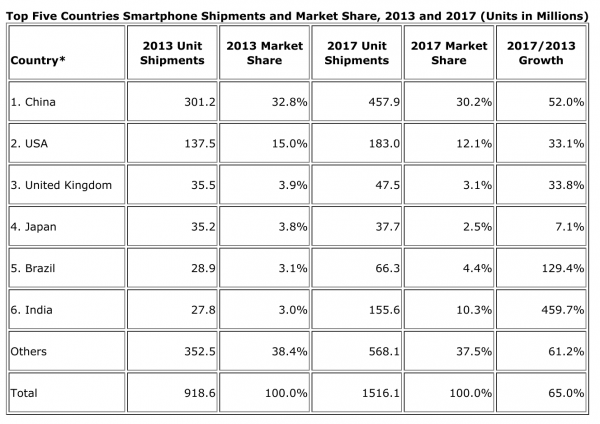 Canalys' smartphone shipments prediction for 2017
We can see that among the countries in top three for Q2 2013, only China and India showed significant smartphone adoption growth compared to the previous year. Furthermore in their predictions we can see that the countries where smartphone adoption can be expected to grow exponentially up until 2017 are Brazil and India with China trailing further behind.This is a further indication that smartphone ownership in the developed markets is getting if not already saturated.
In another word, significant growth in smartphone shipments can now only be expected in the yet-to-be-saturated developing markets.
ABI research predicts that this trend will be even more important in the future.The following are a couple of their predictions for global smartphone shipments in 2018:
The top 5 countries in 2018 will account for 51% of worldwide shipments.
The top emerging market economies, Brazil, Russia, India and China will account for 33% of smartphone shipments. Which means that by then, their total would be equal to North America and Western Europe combined (these two regions account for 39% of the world's smartphone shipments in 2013).
So what is the similarity that the countries in the emerging markets share that Microsoft and other phone makers can exploit?
The most prominent one is that most phones in the emerging markets are mostly sold to consumers with little to no subsidy. Hence, unlike consumers in developed markets like the US or the UK, consumers in the developing world are expected to pay the full price for their devices.This makes these markets very sensitive to price.
Which is why, the (relative) success of the 520 may hold the key to Microsoft and Nokia's future.
With the success of the 520, Nokia's has shown that it can make a device that can compete in markets where subsidy is scarce or even unavailable.
We would like to demonstrate this by analyzing the 520's performance in all of the BRIC countries, but unfortunately, among those countries, India is the only one in which consecutive monthly data of Windows Phone usage is available since the launch of the 520.
Indian Windows Phone Usage from May to August 2013 (from Adduplex):
Indian Windows Phone usage data from Adduplex
We can see that the 520 has quickly risen and dominated the non-subsidized Indian market in a very short time while the Lumia phone that was widely praised by mainstream Western tech media, the Lumia 920, was not even in the top five!
Now, let's compare that to the previous chart for worldwide Windows Phone usage data in the same period:
While the 520's domination is less pronounced globally, thanks in no small part to the relative success of higher end devices in artificially priced markets like the US, the 520 is still a leader by quite a considerable margin.
Taking India as a representative of the unsubsidized emerging markets, retail prices of the Lumia models covered in the charts above look something like this (in USD):
920: $448.41
820: $317.52
720: $261.88
620: $205.20
520: $143.10
Based on emerging market's spending preference, we can use the global Windows Phone usage data to separate the models into two groups based on their prices:
High end, over $300 : 920 and 820
Midrange – low end, under $300 : 720, 620 and 520
The resulting chart looked like this:
High end V midrange-low end Lumia market share
We can see that in the global Windows Phone market, the share of mid-low range Lumias have been steadily rising since May. It over took the high end category's lead in the June and the group continue to extend its lead.
We believe this presents a possible future course for the Windows Phone platform, if Microsoft is serious about tripling its market share in five years.
Here's why:
One of the major complaints we often heard of Windows Phones is the lack of crucial apps availability. That is one of the primary reasons why it is hard for Windows Phone to steal consumers from other smartphone OS user base.
This problem is less apparent to new smartphone owners. These people are yet to invest time and money in other ecosystems. Hence they are more ready to tolerate the absence of apps such as Flipboard . Most people coming from feature phones would be happy with a well made phone that is simple to use and able to provide them with a smooth performance as the conduct simple tasks, such as calling, messaging or social networking with their phones.
In this regard, Windows Phones with their tightly controlled hardware specs, and software that are highly optimized to the hardware they run on, currently holds an advantage over low end Android selling for around $150.
Note the use of the word "currently"; because as we discussed
here
, currently there are Android hardware partners that, through the use of cunning business and marketing models, are able to offer high end specs such as high definition screen, quad core processors and high quality cameras for $200 and cheaper.
With time, component prices will continue to drop that in a year's time, more traditional Android device makers are going to be able to offer such specs at that price range as well.
This is a threat to Microsoft/Nokia's effort to gain market share through catering to the low end market with affordable yet quality devices.
Thus, although the Lumia 520 is currently doing its job to offer quality to the low end market well, Microsoft still has some home works to do to ensure this strategy is sustainable in the future.
We believe that the key to that would be for Microsoft to look for ways to continue driving the price of their low end devices downwards faster than the declining rate of components would allow most Android phone makers to offer devices with performances comparable to late 2011 flagship devices for less than $200.
Maintaining this price advantage would be crucial to offset Windows Phone's weaker app ecosystem in the eyes of prospective buyers when Windows Phone devices' highly optimized hardware-OS combo is no longer a competitive advantage.
In the report quoted above, ABI Research also mentioned:
"If you look at operating systems share in the emerging markets, you tend to find that Android has been busy fulfilling its mission to bring the internet to people who cannot afford a traditional PC or a Laptop"
This further compounds the notion that there is no use for Microsoft to devote their effort at trying to compete with mid range Androids, that is devices priced at $300 and above because there is no way for Windows Phones, in their current state, to satisfy the demands mentioned in the quote above.
In a nutshell, we believe what Microsoft could do from this point on wards is to come up with only two devices for each generation:
A high end model to act as a technical showcase to wow the journalists and grab headlines, keeping Windows Phone in people's discourse in the process and an ever cheapening high quality low end model in the spirit of the 520 to capture the hearts of first time smartphone buyers and take advantage of the opportunity present in the emerging markets, or to borrow Sameer Singh's terminology, "growth engines".
If Microsoft can continue launching ever more competitive phones to cater for the low end sector in these "growth engine markets", eventually, Microsoft will gain enough market share in the global smartphone market to make it hard for developers to overlook the Windows Phone ecosystem.
This would in time close the app gap to then allow the platform to be a more appealing alternative to the two leading ecosystems in the eyes of higher end consumers.
That is, selling devices at prices ever closer to cost to gain market share and rely on services to make the majority of their profit.
Microsoft, with their long history of software and services, is obviously in a great position to leverage this strategy, the question is, will they?

If we take the current pricing of their Office Suite, and the reported price of their upcoming X Box One as indicators, it seems that Microsoft still has some re-thinking to do.