Confused with Samsung's Galaxy Tab 3 trio? Don't worry, we'll try to make sense of it below
By
Bobby Situkangpoles
Earlier this year, Animoca games network launched its global list of top Android tablets based on data from worldwide tablet users using Google Play and playing Animoca games for Q1 2013. Here are the numbers:
Top Android tablets worldwide (Animoca network, Feb 18 – Mar 20, 2013)
| | | | |
| --- | --- | --- | --- |
| Rank | Device | Share | Screen Size (inches) |
| 1 | Samsung Galaxy Tab 2 7 (includes p3100+p3113) | 11.8% | 7 |
| 2 | Samsung Galaxy Tab 2 10.1 | 8.3% | 10.1 |
| 3 | Amazon Kindle Fire | 7.5% | 7 |
| 4 | Amazon Kindle Fire HD | 4.9% | 7 |
| 5 | Samsung Galaxy Tab | 4.8% | 7 |
| 6 | Asus Google Nexus 7 | 3.8% | 7 |
| 7 | Samsung Galaxy Note 10.1 | 3% | 10.1 |
| 8 | Asus Transformer TF101 | 0.9% | 10.1 |
| 8 | Asus TF300 | 0.9% | 10.1 |
| 9 | Samsung Galaxy Tab 7.7 | 0.8% | 7.7 |
| 10 | Samsung Galaxy Tab 8.9 | 0.7% | 8.9 |
| 11 | Motorola Xoom | 0.6% | 10.1 |
| 11 | ONDA MID Tablet | 0.6% | 7 |
| 11 | Acer Iconia Tab (A200) | 0.6% | 10.1 |
| 11 | Sony Tablet S | 0.6% | 9.4 |
| 12 | Toshiba Thrive AT100 | 0.5% | 10.1 |
Of course, a number of high profile tablets have been launched between now and then but it still provides us with a glimpse at how the current Android tablet market looks like. As you can see, six out of ten of the most popular Android tablets are from the Samsung Galaxy line. Out of the six, five came from Samsung's Galaxy Tablet line.
What's even more interesting for me is the fact that the two top tablets comes from Samsung's humble 2012 Galaxy Tab 2 line.
Unlike Google's Asus Nexus 7, these two did not capture the awe and enthusiasm of tech media when they were launched. This is fair, as both were equipped with specs that many considered to be "so last year" when they were introduced in 2011.
Instead of having a quad core chip like the Nexus 7, the two clone tablets had to make do with a lower clocked version of the SoC that powered Google's 2011 flagship, Texas Instrument's OMAP 4. However, their tag team domination of the global Android tablet market share is enough to describe the importance of Samsung's Galaxy Tab line.
In short, the two humble Galaxy Tab 2 tablets are the world's best-selling Android tablet. Which is why it is interesting to see what Samsung is doing with this year's Galaxy Tab line of devices.
Samsung's refreshed Galaxy Tab line comes in three different screen sizes, with three different screen resolution, and the different SoC. That's to say the least, because as we look deeper into each model's spec sheet, we will find even more differences.
This is surely enough to confuse anyone bar the most die-hard Galaxy Tab aficionado. Fear not, however, because we are going to attempt to shed some light into the matter.
But first let's have a little trip to the past and check out how Samsung's most popular tablet line has evolved throughout the years.
Samsung was entering an uncharted territory when they launched the first Galaxy Tab in 2010. The 9.7 inch iPad was just launched a few months earlier, and Android was pretty much still in its infancy. At the time, no one had thought of launching a small tablet with a modern multi touch UI. In fact even Google hadn't even thought of using Android on a tablet device then. Hence, Samsung had to launch the original Galaxy Tab with a UI that was optimized for phones. As a result, the experience was less that ideal with apps designed for phones either not filling the entire screen or stretched to fit the large screen. Some reviewers, understandably, went as far as saying that the tablet feels like a bloated Galaxy S smartphone.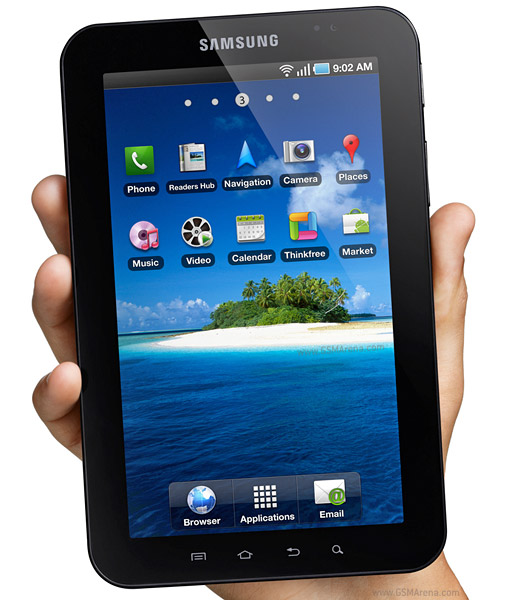 Original Galaxy Tab
Even so, Samsung deserved getting credit for practically inventing not only the small tablet market, but also the market for Android tablets in general. It goes without saying that in 3 year's time since then, Android tablets is now in control of 56% of worldwide tablet shipments (according to IDC).
That's not all that Samsung started with the original Galaxy Tab though, as the original Tab also came with a phone capable model, blurring the line between tablets and smartphones.
2011 saw Samsung launching multiple devices under the Galaxy Tab brand.
The bigger Galaxy Tab 10.1 was launched in March 2011 with Android 3.0 Honeycomb, a dual core NVIDIA Tegra 2 processor and an HD screen in March. An updated, slimmer model, with similar internals was launched just a few months afterwards as a response to Apple's iPad 2. At the same time, Samsung also introduced the Galaxy Tab 8.9 with the exact same internals as the 10.1 inch models. At launch, the 10.1 model had a US$599 price tag while the 8.9 was US$469.
Galaxy Tab 10.1
In September 2011, a direct descendant of the original Galaxy Tab was launched, called the Galaxy Tab 7 Plus. It was equipped with updated internals to bring it up to par with Samsung's then flagship smartphone, the Galaxy S 2, although it kept the same 1024 x 600 PLS display found on the model it replaced. It is also smaller and thinner than the original model and came with a tablet specific Android 3.2 Honeycomb. The successor tablet had a US$629 price tag (3G phone capable model) at launch.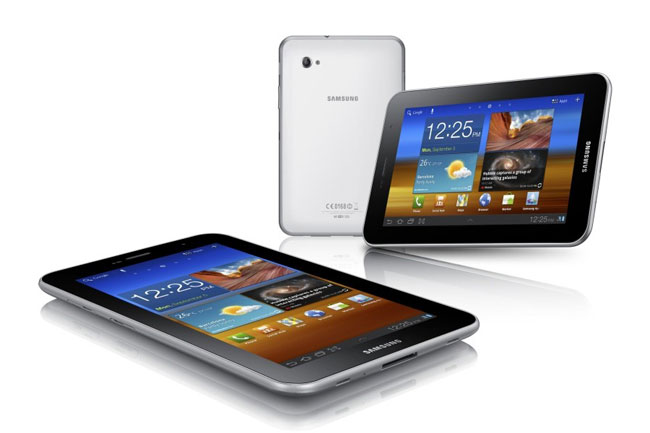 Galaxy Tab 7 Plus
At around the same time, Samsung also launched the Galaxy Tab 7.7 with a larger HD Super AMOLED screen along with, among others, a 1.4 GHz dual core Exynos processor (200 MHz higher than the processor inside the Galaxy Tab 7 plus and the Galaxy S2 smartphone) and 1 GHz of RAM. It was launched with Android 3.2 Honeycomb, and just like the 7 plus, it is also equipped with phone functionality. The 7.7 was effectively the most expensive Galaxy Tab model at US$695 for the best equipped variant.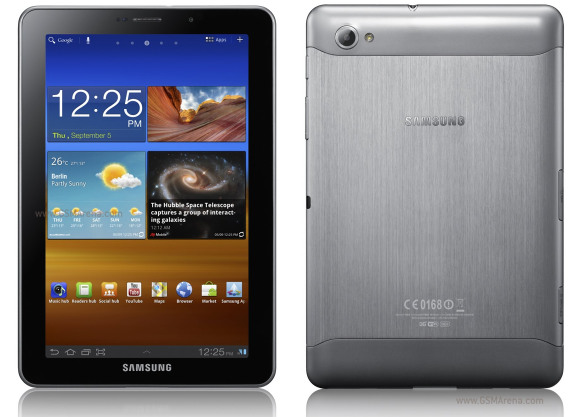 Galaxy Tab 7.7
February 2012 was a turning point for Samsung's Galaxy Tab line. With Google's affordable yet high performance Nexus 7 looming in the Horizon, Samsung decided to relieve its Galaxy Tab brand from flagship duties and relegate the flag bearing task to their then new Note line.
Samsung did this by launching two devices with exactly the same internals. Both the 7 inch and 10.1 inch model were powered with Texas Instrument's OMAP 4 SoC, the same SoC that powered Samsung's Galaxy Nexus, although it comes under clocked at only 1 GHz on the tablets. The 7 inch model came with the same screen as the previous year's Galaxy Tab 7 plus but with lower spec'd optics for both the forward and rear facing cameras. While the 10.1 inch had the same screen as the Galaxy Tab 10.1 that was launched a year earlier. Both had Android 4.0 at launch.
Samsung's Galaxy Tab 2 - Attack of The Clones
By leveraging previously used specifications as well as some down scaling of a number of auxiliary equipment, Samsung managed to achieve competitive pricing compared to the increasingly tight competition. The GSM capable 7 inch model was launched at around US$360 while the GSM 10.1 inch model was priced at $460 at launch. The Wi-Fi only, 8 GB, 7 inch model was priced at around $230, closing the gap to Google's Nexus 7 which was priced starting at $200. (Indonesian launch price were used for the 3G models)
Although the Google Nexus 7 was significantly ahead in terms of specs with its IPS high definition screen and quad core processor, Samsung's Galaxy Tab 2 line made up for it with cellular connectivity, expandable memory, rear camera and worldwide availability. Google's Nexus 7 was only available through the Google Play Store at launch. Markets without full Google Play Store support had to wait almost 6 months for Asus to make the tablet available and at higher prices than those sold through the Google Play. For example, in Indonesia the Wi-Fi Nexus 7 came in November 2012 priced between US$300-$360.
Cellular connectivity is often seen as a deal clincher in the developing markets due to the limited spread of home and Wi-Fi internet connection. However, Indonesians had to wait until as late as February 2013 to get their hands on an HSPA equipped Nexus 7 with a price tag of over US450 for the 32 GB model. It is worth noting that, unlike the Galaxy Tab 2 7, the HSPA equipped Nexus 7 did not come with phone capability, further limiting its appeal to the consumers of developing markets.
By keeping prices low, Samsung managed to widen the reach of their Galaxy Tab line. People who were on the fence a year earlier at paying over US$600 for a phone capable 7 inch tablet are suddenly finding the 50% lower price compared to the older model an irresistible bargain. At the same time the pocket friendly pricing also managed in bringing new people who hitherto would not have even considered getting a tablet.
With that lousy primer on Galaxy Tabs done, we are now ready to dig deeper into what Samsung has to offer with their Tab line in 2013.
While last year's Galaxy Tab 2s were practically clones of each other, with only screen size being the primary differentiator between the two, Samsung took a totally different approach for this year's models.
The most obvious and easy to spot change is that this year, they come in three different screen sizes. Prices for the WIFI models starts at US$200 (7.0), $300 (8.0) and $400 (10.1). From historical data, we can expect the prices for the cellular capable models to be around $100 more for each models.
The Samsung Galaxy Tab 3 line - No longer clones
Unfortunately, the simplicity ends there. Bar the Galaxy S4 body styling, the latest TouchWiz user interface, Android 4.2.2 and the re-incorporation of the now-supposedly-killed-off Gingerbread physical button scheme, the three tablets share little in common.
The smallest and obviously the cheapest of the line is the Galaxy Tab 3 7.0. Now, let me state from the start that if you already have a tablet of any size and are looking to either upgrade your old small tablet or add a smaller one to your arsenal, you have no business worrying about this one.
The Galaxy Tab 3 7.0 comes with a dual core 1.2 GHz Broadcom processor which is but a very small upgrade from the 1 GHz dual core TI OMAP 4 used in last year's model. It has the exact same screen as the model it replaces, the same amount of RAM, the same camera optics, and so on.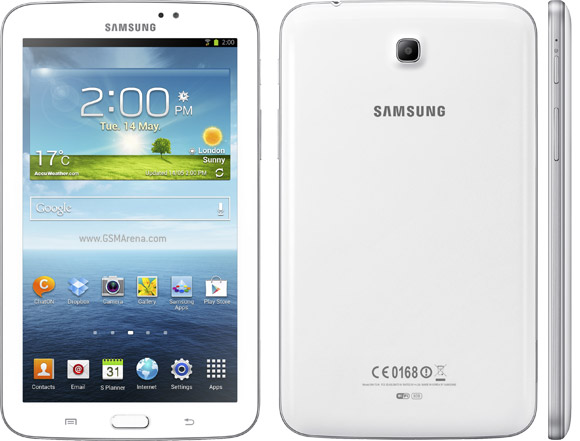 Galaxy Tab 3 7.0
By keeping the specs essentially the same, Samsung can now bring the price of the Galaxy Tab 3 7 lower. This is important because competition in cellular+phone capable tablet space is heating up. For example, Asus is offering the 8 GB HSPA model of their Asus Fonepad for less than $300. If the Tab 3 7 was priced similarly as the old G Tab 2 7 when that model was launched, it just wouldnt't work for Samsung. It is clear that this model is not designed for those looking to upgrade their old G Tab 2 7 but for those who have not joined the tablet-ownership lifestyle. With the Tab 3 7, Samsung, just like Asus with their Fonepad is looking to lower the barrier of owning a decent tablet even further. Particularly for people in the developing markets looking to get the most out of their money.
Asus FonePad
However, if it were my money, I'd go with the Fonepad becaus
e it comes with a high definition 1280x800 IPS display, similar to that found on the Nexus 7.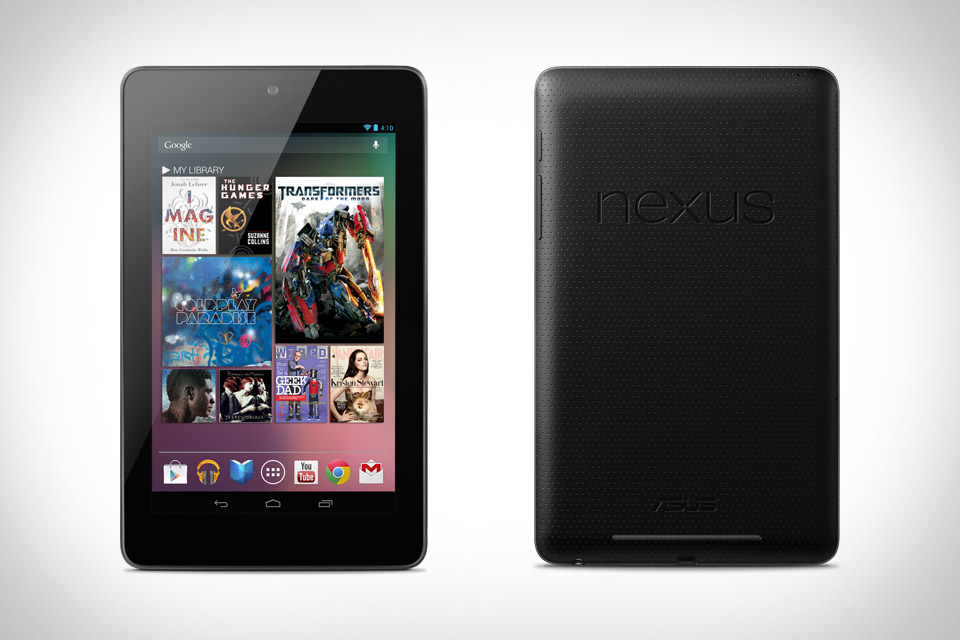 Google Nexus 7
As for those who are not looking for a phone capable tablet, Google's old Nexus 7, or better yet its refreshed model, will give you a much better bang for your money.
The next flavor comes in an 8 inch flavor, ala the Note 8.0. Basically this is the one Samsung is gearing towards people who are looking to replace their old tablet.
Galaxy Tab 3 8.0
If you have been following this blog, you'd know how I love the 8 inch Note 8.0, I explained its benefits over smaller and larger tablet form factors as well as its downsides in this post. This one is basically a $100 cheaper Galaxy Note 8.0. One of the very few differences between this tablet and its big brother, the Note 8.0, is instead of having a quad core Exynos 4412 and 2 GB of RAM, this one comes with a dual core variant, the Exynos 4212 and 1.5 GB of RAM.
At a glance, one might suspect that the 8 inch tablet has the same processor as the one found on Samsung's Galaxy S2 from 2011. That's not quite accurate, because the 4212 found inside this tablet is fabricated with a 32 nm process rather than 45 nm as was the case with Samsung's 2 year old flagship smartphone. Samsung claimed a 40% increase in performance at the same power draw and 30% reduction in power usage over the old 4210.
Another notable difference to the Galaxy Note 8.0 is the lack of SPen support.
Apart from the differences we have mentioned, there is no other significant difference between the Galaxy Tab 3 8.0 and the Note 8.0. Both share the nice screen (as shown by CNET). The Tab 3 8.0 even supports Samsung's multi window feature, just like the Note 8.0, although how much it could boost your productivity without the SPen is a subject for debate.
So if you're looking to upgrade from a Galaxy Tab 2 7.0 or you are looking for a smaller sized companion to your 10 inch tablet, and you are not looking to get the productivity boost from Samsung's Spen, this is definitely the one to consider.
From personal experience, I think the 8 inch screen size is the perfect tradeoff between usability and portability. I just haven't used my 10 inch tablet much since I have the Note 8.0. In the other post mentioned earlier, I stated that one of the drawbacks of the Note 8.0 compared to 7 inch tablets is the fact that its width made it significantly less comfortable to hold it with my hand wrapped across the back compared to 7 inch tablets. The good news is, the Galaxy Tab 8.0 happens to also come with thinner bezels, making it only .01 inch wider than the old Galaxy Tab 2 7.0, so that problem I had with the Note 8.0 is certainly not an issue here. So if you think you're looking for something more portable to replace your old 10 inch tablet, you can consider this tablet as well.
Galaxy Note 8.0
The last model is the Galaxy Tab 3 10.1. Honestly, apart from the fact that Intel managed to score the deal to power the second most popular Android tablet device -while NVIDIA is currently having problems getting their device into high profile devices-, I find it hard to find anything exciting to consider getting this tablet rather than the similarly priced Nexus 10. While the 10.1 inch variant of the Galaxy Tab 3 comes with the same Intel 1.6 GHz Atom processor powering Asus's refreshed Fonepad, Google's 10 inch tablet not only comes with direct updates from Google, it also has a dual core ARM Cortex A15 processor and one of the world's highest resolution screen in a tablet.
Galaxy Tab 3 10.1
It is also worth noting that a number of reviews have reported that the 10 incher is the most sluggish of the three.
What if you absolutely need HSPA connectivity on your 10 inch tablet?
Well if that's the case I suggest you consider the Galaxy Note 10.1 instead. It's only around $100 more, but it comes with the venerable quad core Exynos 4412 and the SPen+multi window combo. That combo is currently unbeatable in the tablet space if you're looking for productivity. Plus there are no Gingerbread physical buttons to drive you crazy when you're handling the tablet with one hand.
So there you go, a rather lengthy explanation on why:
you should only consider the Galaxy Tab 3 7.0 if you haven't got a tablet, on a tight budget, and you have no access to the Asus Fonepad;

you'd be better off sticking with the Nexus 10 and its significantly higher resolution screen instead of considering the Galaxy Tab 10.1 (unless you absolutely need HSPA connectivity on your 10 inch tablet, in which case, I advise you to go with the Note 10.1);

the 8 inch model is the crème of the crop in today's small Android tablet market in case your budget or preference does not allow for the ultra-mobile productivity powerhouse that is the Galaxy Note 8.0. Plus, some reviews have also reported that it is the smoothest of the 3.
Thank you for reading and I hope you enjoyed it.